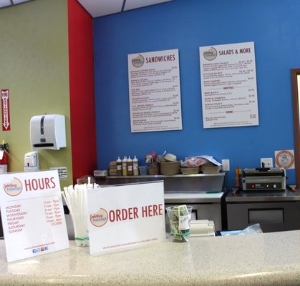 The tiny sandwich shop that started it all.
Phoney Baloney's started as Kyle's dream sandwich shop; a place where you could get an affordable lunch that consisted of gluten and good vegan fake meat (both things that Kyle is passionate about). Operating a vegan sandwich counter in a gym in a small shopping center in Irvine, California was less than ideal, but the inevitable closing of the sandwich shop turned Phoney Baloney's into the fake bacon peddling company it is today.
The story begins with customers asking where they could purchase the crispy Coconut Bacon from their very SoCal-inspired BLTA (that's a BLT with avocado on it). At first, the answer was 'nowhere', because the Coconut Bacon was being made in one pound batches by hand in a counter top pizza oven at the gym.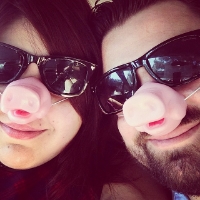 After having to repeatedly tell people it was impossible to buy Coconut Bacon, Kyle and Andrea decided to launch an IndieGogo campaign with the intention of being able to deliver some vegan bacon to the customers they had met at the humble sandwich counter. The IndieGogo campaign was successful enough to cover the cost of the first ever packaged Phoney Baloney's Coconut Bacon production, and reached far and wide enough to have retailers approaching Kyle and Andrea about selling their Coconut Bacon.
Today, Phoney Baloney's Coconut Bacon can be found in hundreds of retailers across the United States and Canada. Oh yeah, Andrea and Kyle also got married in April 2015.
Dreams do come true.
Phoney Baloney's Coconut Bacon Recipes
RATIONS Tofu Scramble Seasoning Recipes
There's more! Don't see a retailer near you listed here? Enter your zip code below and we'll email you with the closest retailer.
Want to request Coconut Bacon at your local store?
Download our handy retailer request form.